Dealing with the Unexpected
Death of a Loved One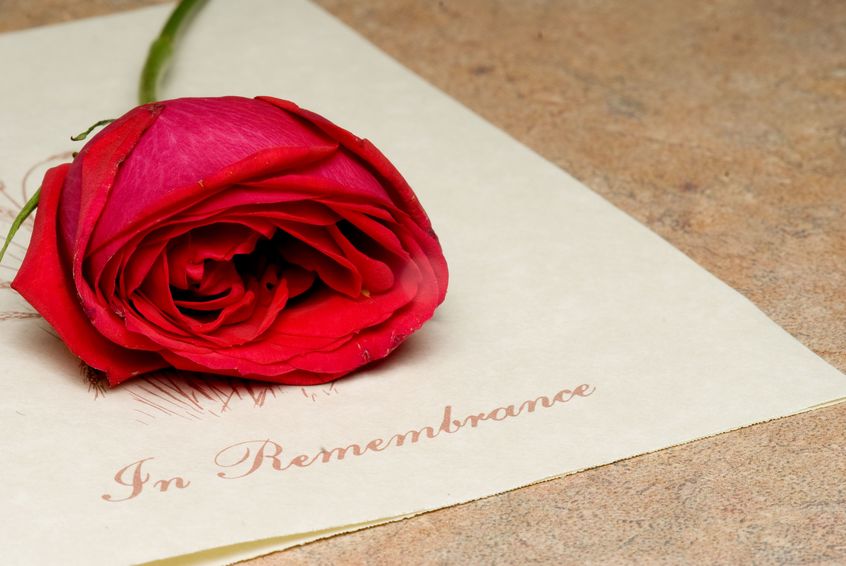 The unexpected death of someone you love is not something you can ever be prepared for. Quite the opposite, in fact, as a dear friend recently shared.
She and her husband had been planning the next phase of their lives, looking at things that needed to be completed and caught up with, including updating on finances--which her husband had always tended to, and planning places to visit once Covid was under control. They had been creating a to-do list for living.
Unprepared, she didn't have anything to guide her in knowing what to do and in what order.  She wrote to me to ask if I would sync what she has learned into an etiquette blog, so that others have a polite and thorough guide to ease their suffering when an unexpected death occurs.  When running on fumes, with a spirit of grace, she took the time to think of others.  
Following are suggestions I have gathered from my friend and others who have dealt with the death of a loved one.  How to sort through the order of things, how to be kind to others and yourself, and to have your loved one celebrated properly.  These are what matter most.

The Order of Things
Depending on the situation, you or someone else will need to notify authorities or call medical emergency personnel.  You will then need to find a mortuary.  Call two or three of them to decide who will provide the funeral services most in line with your budget, cultural or religious preferences, and consideration of your needs.
Will you want an open casket service, cremation or burial?  A religious memorial service held at a church?  A wake or reception held at your home or another location?  There are so many options and, therefore, many decisions you will face.  
Whatever you decide, this is your expression of love for, and honor to, a beloved one.  Accept that you, if you are the spouse or parent, must take on the responsibility, even if you are deep in grief and would rather not think about such painful matters.  Remember that you are the best one to know your loved one's wishes.
Other tasks to complete:
Decide which relatives and friends need to be phoned immediately.
Contact other friends via email.  Let them know you will follow up with information regarding funeral, memorial or celebration of life service.
If you attend church, contact your priest, minister or rabbi.  That person will offer assistance and will help with service details.
The mortuary provides the death certificate.  Obtain 15-20 copies.  These will need to be provided to almost every place the deceased had a financial connection.
Find someone who can post the news appropriately on social media, which might involve you posting on the deceased person's media, thus informing acquaintances of their passing.

Contact your loved one's workplace and employee benefits office.  Identify key people to be in touch with and one who can direct you through work-related financial questions.
Fortunately, most staff members at funeral homes are good and compassionate resources for helping clients deal with an unexpected death.  They can guide you about steps to take, including how to write an obituary.  During this time of intense decision making, have a trusted friend or family member by your side.  You will be in a highly emotional state so it is necessary to find someone who can be with you as you go through the initial steps of making arrangements.
Make a written list of the things you need to do and keep it in full view.  Things that come to mind, things you don't know, who to call next, what's been done, and so on.  This map can be anchoring when waves of sorrow rock your world.

Celebration of Life
Once you've decided the arrangements and the date, post the information to everyone you wish to attend.  Even following Covid, the mortuary or cemetery may still limit the number of people who attend.  
Create a form letter or invitation to send out by email or place a notice in the local newspaper, perhaps as part of an obituary.  
Food is not necessary at the service, but if desired, you might have boxed snacks catered and perhaps a table of beverage options. 
Friends and family can follow up the service with a more intimate gathering at your home, if you wish.

Following an Unexpected Death
In the days and weeks after the unexpected death of your loved one, flowers and cards will arrive at your home.  This is a time to love and appreciate those who made the effort to send them.  If you are allergic to certain flowers and are unable to have them in your home, it is okay to place them outside in the garden or on the patio if you can.  
However, a little organization will go a long way when you're ready to send notes of thanks for the acknowledgement of your loved one.
Keep all condolence cards and notes that accompany flower arrangements in one designated place. 
Write a short description of the flowers on the back of the cards.
My friend has given herself a full year's time to write notes of thanks.  While you should acknowledge kindnesses and condolences as soon as you can, know that grief has no timeline.
Friends and family members will want to call to see how you are doing.  If you aren't ready for this, let them know.  You might send a message or email to say, "Thank you for your care.  I am still catching my breath now with so many things to do for a while. Please let me call you when I am ready."
Unfortunately, before you can "catch your breath" the actual business of dealing with the unexpected death of your loved one begins.
Insurance termination and/or insurance claims.  If emergency cash is needed to cover immediate expenses, a cash advance may be made from life insurance benefits you may receive.
In a ledger or notebook, track all expenses you cover.  These figures will be needed for tax returns.
Title and bank account changes.  Be aware that some joint assets can be frozen once the bank becomes aware that one of the joint owners has died. 
Notify the Department of Motor Vehicles, Medicare, the Social Security Administration, Veterans Affairs, and any other applicable organizations.  
Close credit and debit card accounts.
Close or forward email accounts.
Delete or memorialize your loved one's social media accounts.
My friend wrote, "Sometimes dealing with these practical matters can be a kind of distraction from sadness.  Remember to be kind to yourself.  A sudden death will shake you to the core. Remember to reach out.  Others will be there to listen, to care, even to laugh."
While death isn't something anyone enjoys thinking about, one of the best gifts you can give your loved ones is the ease of handling your departure from this world.  No matter your age or circumstances, your preparation will allow your family and friends to handle your death, especially an unexpected death, in the most etiquette-ful way possible.
You may also enjoy reading . . .