Etiquette Classes that
Build Confidence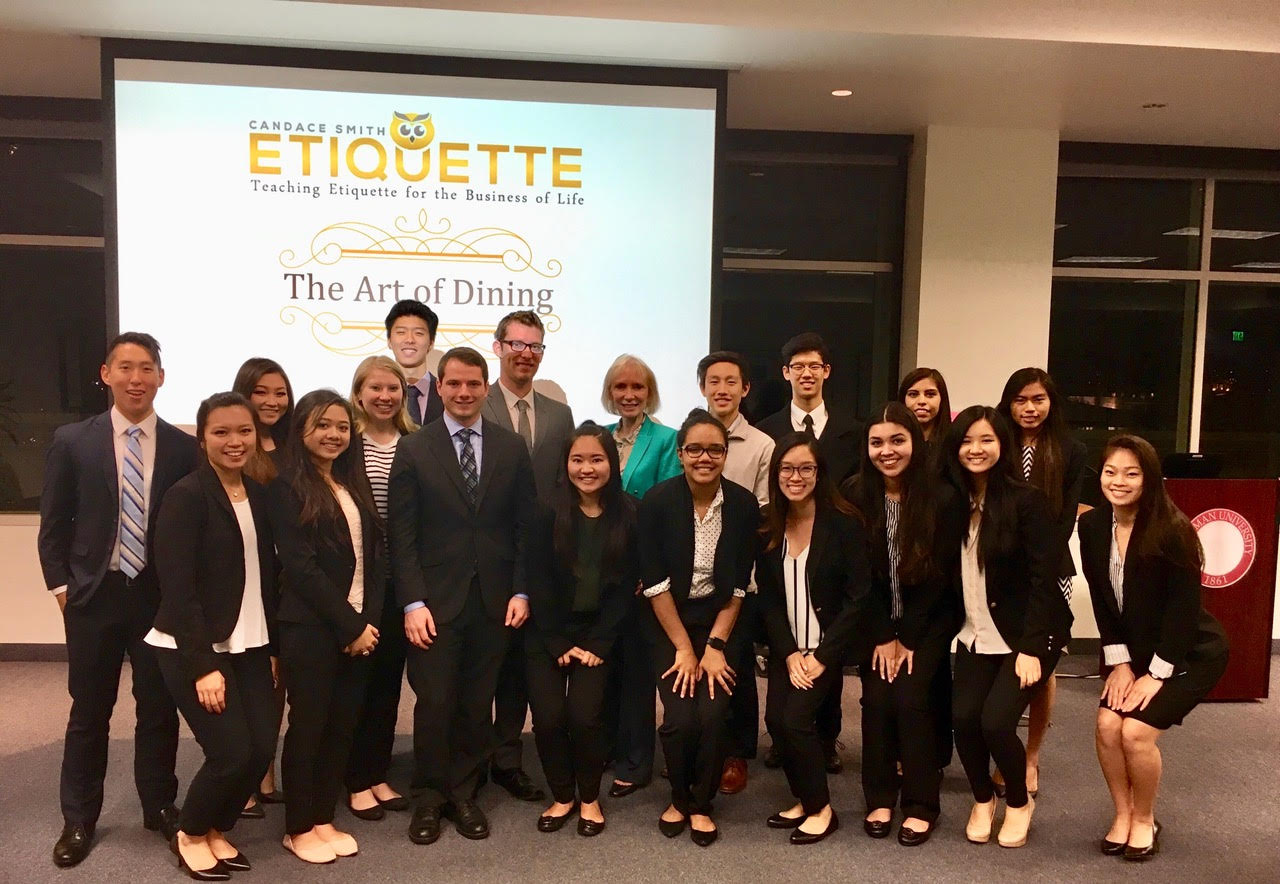 Are you preparing for entry into the next phase of a productive social life, or helping your company meet and maintain its image of excellence?  I would love to help you accomplish your goals.

Proven time and again - can-do knowledge of etiquette guidelines and practices helps people achieve a higher level of comfort and confidence when interacting with and leading others.

While it is true that some people seem more social and charismatic than others, learning the soft skills of etiquette enhances your natural-born skills and creates a depth of knowledge that even the most introverted of personalities can put to use to make workplace interactions and social occasions enjoyable experiences.

People do business and interact with those they know, like, and trust.  Employers are looking for employees who demonstrate not just technical skills and know-how, but people skills and practiced professional etiquette skills.

Adeptly interfacing with associates, clients, customers, instructors, and fellow learners in a polite, authentic manner helps you conduct business more effectively, and also can benefit your personal life.

In a world in which "private" so quickly turns "public," etiquette skills add great value to anyone's soft skills toolbox.

Customize a Class for your business, career center, university, or group:
Networking Skills at Professional and Social Stand-up Events
The proper handshake and greeting others professionally; Preparation before an event; Body language - what do you want to communicate?; Introducing yourself and others; Remembering names; Conversations and socializing; What to do with your hands at a reception — holding the plate, glass, napkin and shaking hands at the same time; The food table and appetizers; Giving and receiving business cards, following up; Written thank-you notes.

Etiquette Basics with Emphasis on Non-verbal Communication
Presenting yourself with positivity; Posture and body language;  Smile, eye contact and the handshake; Sitting and standing; Gestures and distractions; Personal space awareness and sensitivity of others' space; Speaking and listening timing tips; Deconstructing the perfect handshakes; Good grooming; Professional attire and how to know you look your very best; Mobile devices: a whole new era.

Professional Dining Etiquette During a Four-course Meal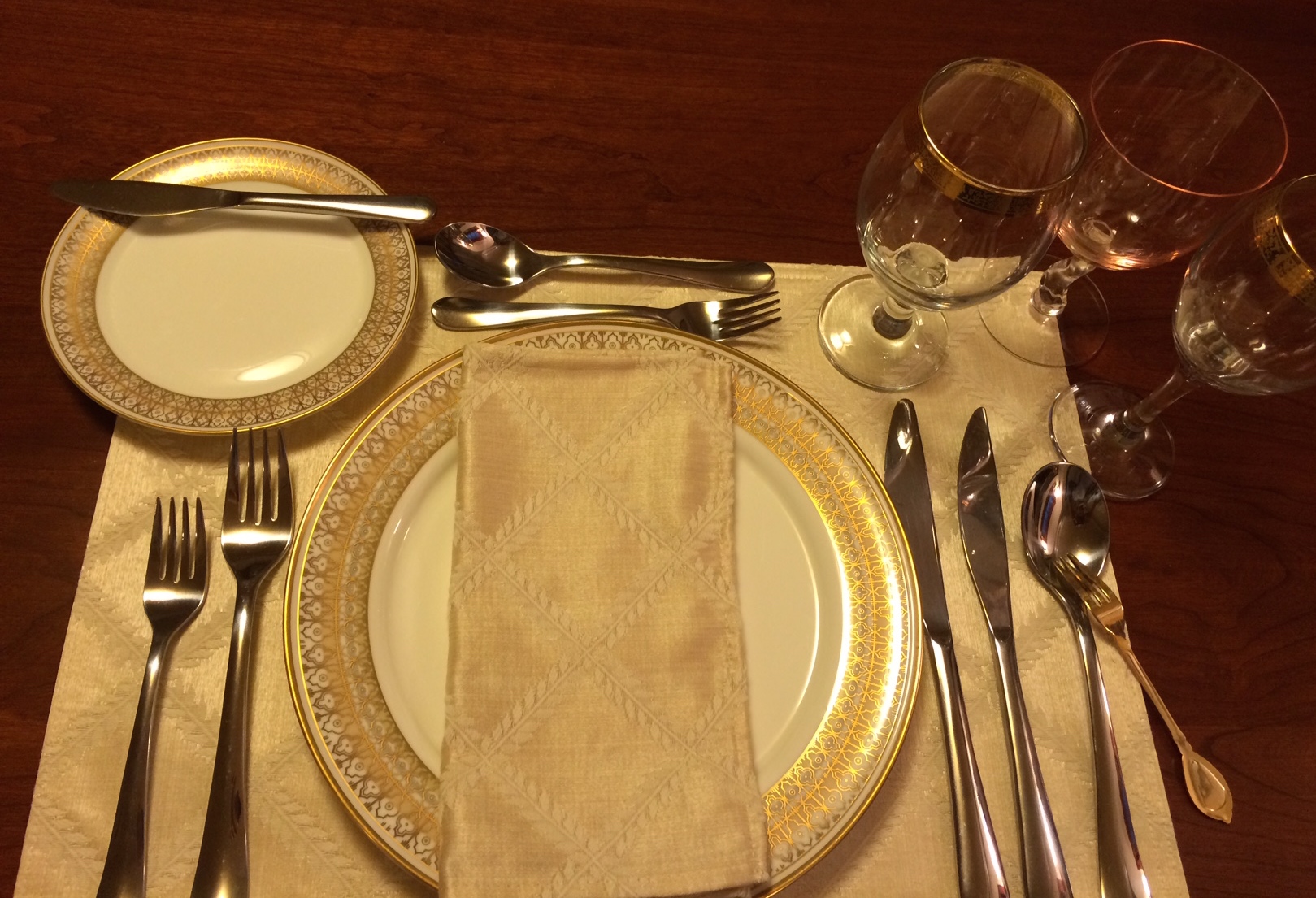 Reading your place setting as a map, Table setting logic, Approaching the table, Where and when to sit, The critical role of the host, Being a great guest; Table etiquette Do's and Don't's and avoiding faux pas; American and Continental Dining Styles; Proper Use of the Napkin, Passing food; Holding your dining tools correctly; Conversation and the table; Personal and Common Space at the table, When you have to be excused; mobile devices; Hosting or Attending a business lunch at a restaurant; Being recognizably respectful when dining with others. 
Short sessions, half-day, or full-day sessions can be customized to meet your organizational goals.

A One-on-One Learning Experience

The year 2020 was a learning experience all on its own!  Which is why I am now offering one-on-one etiquette tutorials via video conference as well as in-person events.   

I bring my experience as a seasoned educator to the task of tailoring etiquette and practical life skills tutorials to your personal, professional, or school circumstances.  Conducting tutorials via video conference allows for an interactive experience, which I believe is the best method of learning new information.  You may prefer signing up with a friend or colleague.  

Each tutorial is scheduled for 60 minutes, and is designed with your needs and questions in mind.

Learning Sessions
Dining Etiquette
Many etiquette questions I am asked center around dining and table manners.  Indeed, we all eat and many celebrations and events are centered around food, so it's logical that knowing how to conduct yourself before, during, and after a meal will contribute to your enjoyment of it. 
My dining etiquette tutorial includes discussion and practice of:
Table etiquette and it's importance… Approaching the table… When to be seated… When to begin eating… The basics of perfect table settings… The napkin as the most important table tool… Passing food… Continental Dining Style (2-step)… American Dining Style (4-step)… Conversation at the Table… Servers and signals… Dining faux pas and how to recover.

60-minute Dining Etiquette Tutorial
$100.00 per person


Teleconference Job Interviews
Did you know that 85% of your professional success will come from your etiquette skills?  Interview skills are mostly etiquette skills.  Add the challenge of not meeting your future employer in person right away, and you can see how essential teleconference interview skills are. 
This tutorial covers:
5 essentials for interview prep… Words to always use… Your interview space and set up… Making a good first impression… What to wear… The first thing to do… Setting the tone… Nonverbal body language is everything… What to have on hand during your interview… Teleconferencing interview faux pas… Interview follow-up.

60-minute Teleconference Job Interview Preparation Tutorial
$100.00 per person
 

Online and Digital Written Communication
Communication methods have changed drastically just in the past few decades.  Now, more than ever, communicating effectively in a clear, concise manner is one of the most important skills you can possess. 
My communication tutorial covers:
How digital communication differs from face-to-face… Making a good first impression every time… Online etiquette rules… Email essentials… Texting do's and don'ts… Instant messaging uses and differences… Social media must-do's… Social media platform etiquette checks… Always and Never do's.

60-minute Online and Digital Written Communication Tutorial
$100.00 per person


Personal Consultations
Have a question regarding etiquette or life skills that you'd like to discuss one-on-one with me?  I'm available for a chat!  From dining to dating . . . business etiquette to building friendships, I'm happy to help.

60-minute Personal Consultation
$100.00 per person

Give yourself the gift of confidence when interacting with other people and presenting yourself professionally and competently.  Sign up for one of the tutorials above by clicking the link directly underneath the description.  

Have a question about one of the tutorials or would like to design your own?  You may contact me directly via email at "candace[at]candacesmithetiquette.com".

I look forward to working with you on your etiquette skills journey!

All my best,
Candace