Guidelines for Offering Condolences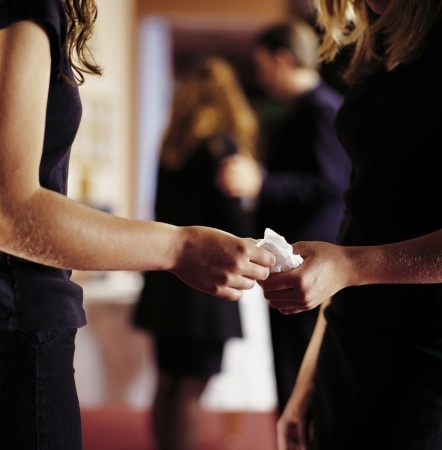 Offering condolences can be challenging when you struggle to say just the right thing.  

Unfortunately, times of challenge and loss are a part of our lives.  What matters most is that you show compassion when others experience difficult life events.

In the case of death, when consolation is not possible, just to let the bereaved know that you care is doing your best.  Offer your own words in the most considerate, genuine, kind, and courteous manner.

Reach Out to Comfort
As soon as you have the news from a legitimate source, it is appropriate to reach out directly to the person or people affected. 

Compassion, courtesy, and common sense should serve as your guides to communication.  A phone call is thoughtful, but be understanding if your call goes unanswered or is sent to voice mail.  Your friend may be overwhelmed with phone calls at the time, and simply unable to handle them all.

Pay a visit to the bereaved only if you know this will be appreciated.  Some people prefer to handle grief or challenges in private.

In the case of a funeral or wake, briefly visit with the family who lost their loved one, with respect to the number of other people who also wish to speak to them.  

The etiquette of offering condolences requires that we do what we can to comfort and offer assistance.  And giving the person or people affected plenty of space to be alone and include others as they wish.

Offering Condolences in Writing
If you are better at writing your words of comfort than speaking them, you could consider doing so via email or text. 

However, use these methods only if you know the bereaved very well and know she is comfortable receiving condolence messages this way.

In today's age of instant technology, it may be that the person most affected has announced the situation on social media, indicating his comfort in that medium.  Social media has given many the sense of immediate community and find it helpful and comforting to communicate online.

Should you choose to communicate via email, text, or social media, please follow up with a handwritten card or letter.  Receiving a card or letter that you took the time to write and send will mean a great deal during times of struggle and grief.

What to Write
Keep It Sensitive and Simple!

What you write will vary according to the relationship you have with the recipient - family, friend, co-worker, or close acquaintance.

Here are some basic guidelines to keep in mind.

What to Say:

An expression of sorrow.  "Sorry" is most often used.  "I'm sorry to hear about your father."
Relating a genuine, personal memory of affection for the deceased is kind.
Offering practical assistance when possible is considerate.

What to Avoid Saying:

Unsolicited advice.
Words meant to "cheer up" or encourage.
Words of clichéd wisdom or of your own experience.

Some things are just better left unsaid, but your most personal and authentic means of offering condolences is the rule.

Remember to stick to the basics of "less is more" as a good rule of thumb, especially if you default to "chatty."

How to Write It
Remembering that condolence notes and letters are too personal to follow one template, here is just a sample of what to include in a note or letter of sympathy:

Salutation:  Dear ________
Expression of sorrow
Something heartfelt about the person who died
Your offer to help
Wishes for the best
Closing

Dear Sam,

I am so sorry to learn about your Dad.

He always greeted me with kind words and was so good at making others feel welcome in your home.

If there is anything I can do for you during this difficult time, please do not hesitate to let me know.

You are close in thought and mind.

Respectfully and with love,
Mary

Whom to address:
If you knew the deceased well, but not the family, address the note to the closest relative.  You can also add "and Family" if you wish.

Write to the person you know the best to express your condolence.  If it's a friend whose parent has died, write to the friend.

Send your card or letter within a week of learning of the death.  Otherwise, don't let the time frame prohibit you from reaching out! 

During times of deep, personal loss, it can be difficult to know what to say when offering condolences.  Also when expressing comfort for the loss of a job or relationship, or other challenging events.  But the most important thing to do is reach out.

Letting people know they are supported and cared for can help make tough times more bearable.
You may also enjoy reading . . .