How to Address an Envelope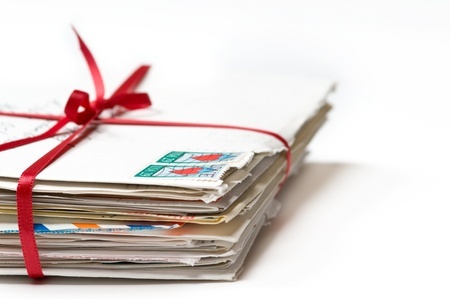 It takes seconds to address an envelope.  And yet, we rarely receive a piece of mail with our name handwritten on it.
Sad, because this is the mail that makes our day!
When you check your mail, which pieces do you open first?  That's right, the cards and letters sent to you from someone who cares enough to take a moment and write a few lines - no special occasion required.
In case you're out of practice, or were never sure how to address an envelope correctly, here are some basic rules for this meaningful task.

Titles
Men are addressed as Mr. and women are addressed as Ms.

Miss is used for girls up to the age of eighteen.  It can be used for single women as well, but the use of Ms. is the standard for adult women today.

Mrs. is used with a husband's name for a woman who is married.  If used with her given name, it signals that she is divorced or widowed.


Mrs. Thomas Banks (married)
Mrs. Sarah Banks (divorced)
Ms. Sarah Banks (any relationship status)

The Order of Names
Unmarried couples are addressed on two separate lines.  The woman's name is listed first.  For same sex couples, names may be listed alphabetically.

         Ms. Sarah Johnson
         Mr. Thomas Banks
         123 Alpha Street
         Anywhere, USA  09876


         Mr. James Allen
         Mr. Toby Welchel
         456 Alpha Street
         Anywhere, USA  09876

Married couples are addressed on a single line.

Mr. & Mrs. Thomas Banks
    or
    Mr. Thomas Banks and Ms. Sarah Johnson

If both names do not fit on one line, place the second name on a separate line, and indent it.

                                               Mr. Thomas Banks
                                                   and Ms. Sarah Johnson

When both recipients have military rank, the person with highest rank is listed first.

Colonel Thomas M. Banks and Lieutenant Sarah J. Banks

This also applies to non-military rank.

Senator Sarah J. Banks and Mr. Thomas M. Banks

Dr. and Mrs. Thomas M. Banks

But if both are doctors, you may shorten it a bit.

Address an Envelope with Good Thoughts

Once you have the names of recipients listed correctly, be sure and double-check the mailing address.  You can look up zip codes and find additional tips on how to address an envelope on the United States Postal Service website. 
As you write the name and address on the envelope, think something positive about the person you're writing to.  Not only does this give you a good feeling in that moment, you may find that it carries over to the moment the envelope is opened!  Give it a try. 

You may also enjoy reading . . .