Dealing with Late Guests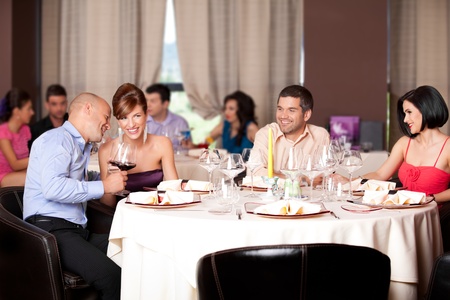 The most perfectly planned party may be wonderful, but it still isn't protected from late guests.  What's a host to do?  Keep the party moving and continue making everyone feel welcome.  

But on the inside, even the most experienced host cringes while waiting for latecomers.

Entertaining On-time Guests
Cocktail and "open" type parties minimize the distractions and inconveniences of late guests.  Unfortunately, this isn't the case for a dinner party.

When serving drinks and hors d'oeuvres you will have some buffer time.  Extend it as long as possible to so that when tardy attendees do arrive they won't feel rushed to the table to eat.

If guests become impatient or things get a little chaotic, take a deep breath and get creative with your waiting time.  Always have a list of conversation starters in mind for situations like this. 

Unless your latecomer is a VIP, you can always move forward with the meal or celebratory event. 

As the host, you are the leader.  No matter how you decide to handle things, do your best to keep yourself calm, and your guests comfortable.

When Late Guests Arrive
Once your latecomers show up, help them integrate into the festivities as seamlessly as possible.  No need to make a big deal about their arrival (unless there are special circumstances).

There is also no need to reprimand a late guest upon arrival.  Many who are chronically late don't realize they put a damper on the event. 

Try and bring a feeling of balance to the situation.

Encourage Timely Arrival
For many guests, knowing the reason for the event ahead of time is enough to encourage a timely arrival.  A surprise party is the perfect example of this.  Knowing there is sense of timeliness – and secrecy – provides a built-in "don't be late." 

If guests are made aware of an agenda for the occasion, extra effort is made to avoid missing something they want to be a part of.

A day or two before your party, you might send an email reminder of your event: "We'd love to see you for cocktails at 6:00 pm, and dinner will be served promptly at 7:00 pm."

There are many reasons why a guest might be late.  From extreme forgetfulness to calendar carelessness, perhaps even a true emergency.  Many times, you're left with only speculation.

The best thing you can do is have fun and enjoy the evening you so carefully planned, no matter when your guests arrive.  As a good host you are happy and everyone knows it.
You may also enjoy reading . . .