The Food-Obsessed Dinner Guest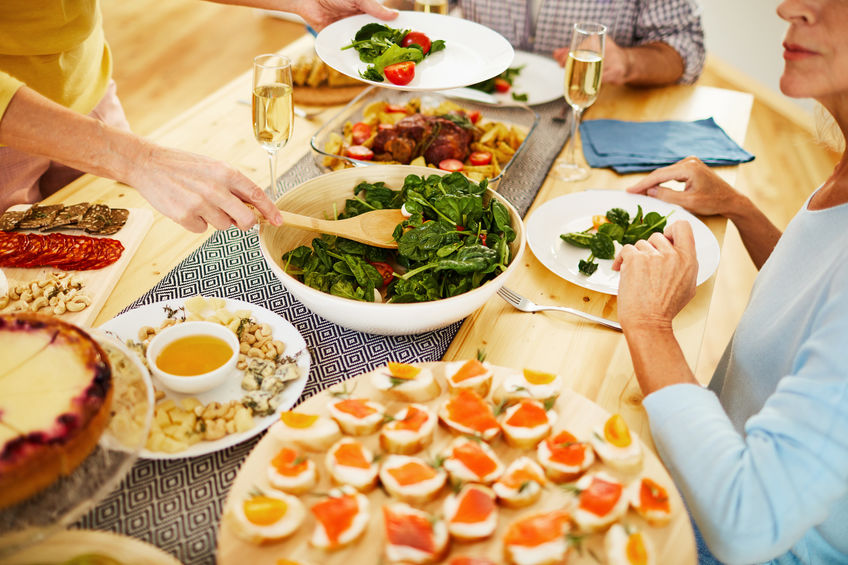 Special occasions and get-togethers with family and friends center around fun conversations and good food.  As host, you make sure you know your guests' food restrictions or strong food preferences.  Menus are planned to please everyone.

However, when a guest is food-obsessed, there's a chance the lighthearted enjoyment of a meal could go right out the window unless the host is ready to intervene.

What's the Obsession with Food?
Food obsessions can be thought of in many ways, and we're all probably a little food obsessed.  Beliefs, personal preferences, ideas and understandings about food, cultural or family traditions observed, diets as solutions, claiming oneself as a gourmet or "foodie," health consciousness, fears, and habits can center around the subject of food.

If one of your guests practices a diet that works well for him, and it seems to be the only topic of conversation he is capable of discussing, this can become irritating to other guests or make them uncomfortable. 

Unfortunately, food choices can become moralized, and when "good" or "bad" comes in to play, your intervention may be necessary.

Dealing with Your Food-Obsessed Guest
Hosts have all guests in mind, and it's the host's responsibility to rise above any negative situation that presents itself.  A few things to be mindful of:

Kindness is always in order. 
Even if you need to do some conversation intervention, embarrassing your guest won't do.  Etiquette is about subtlety.
The easiest – and mostly subtle – method for dealing with your food-obsessed dinner guest is changing the subject of conversation.
"Jennifer, your views are eye-opening and you've obviously done a lot of research.  But let's talk more about you.  When's your next trip coming up?"

Give the person the benefit of a doubt even when a food-obsession topic just doesn't go away.  It may involve some fudging.
"I think my hearing is challenged this evening!  I know we're not talking about food again!  I hope everyone is enjoying what I've prepared."

If someone has been directly confronted by the person, you might need to do the apologizing, as the diet-obsessed person might be too far out to realize that she shouldn't have gone there.
"I'm really sorry, Jeff, that Jennifer doesn't see eye to eye with you, but many people would defend your view if there ever were a debate.  Let's lighten things up!  Does anyone have any 'Dad jokes' he's heard lately?"

When other guests begin rolling their eyes, taking a deep public breath might be just the comic relief the group needs.
Sigh…  "Does anyone care for more wild rice?"

Prepare Before Your Event
A good host is always prepared and knowing who is on your guest list is a big help in your preparedness.  Straight talk before the next event you host will be helpful:   

As always, check ahead of time for allergies and food aversions. 
Have a talk with the person and let her know that you enjoy her company immensely, but that talking about diets and "right" food choices are not topics that you value at dinner. 
If the same group is gathering again, make a firm, but light-hearted comment about forbidden topics at dinner.

A Little Understanding Goes a Long Way
Sometimes a person can fall over the deep end in a food-obsessed habit and lose sight that others don't really want to know what their thoughts and needs around food are.  This kind of food-obsessed person loses out on possibilities to engage and interact with others.  Food-obsessions are socially isolating.

For all of us, food can be the center of concern.  After all, our health depends on what we eat.  Many of us struggle with issues related to food and it's hard not to draw others into our concerns.  So, when we know that someone is food-obsessed, it's often the kindest of all possible actions to just let it go and change the subject as soon as possible.
You may also enjoy reading . . .