Tipping Etiquette for
Restaurants and Cafes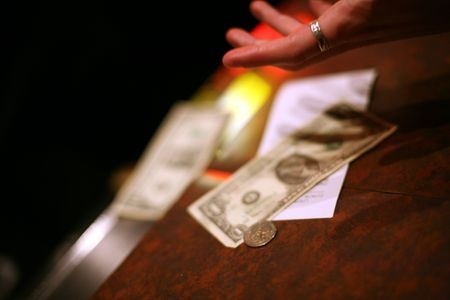 With tipping etiquette being influenced by changing technology, it's even more important to have some general guidelines in place for yourself.  

Ultimately, the amount of your tip is entirely up to you.  With appreciation, kindness, and respect as your anchors, you're probably well on your way to developing your own system.

In the United States, tipping is customary and expected.  In most states, it is a portion of the hospitality staff's pay.  The vast majority of food establishments pay well below the minimum wage with the understanding that their staff receive tips to make up the difference.

Tipping Sends Signals
The origin of the term "tip" is actually an acronym for "To Insure Promptness."  Therefore, a large tip is an acknowledgement that you are very satisfied with the service you received.

Standard tip amounts for most food establishments range from 15-20%.  You may tip over 20% if your service was outstanding, and some even go as high as 30% for "best ever" service.  The tip is calculated before tax is added.  

Some restaurants automatically add a gratuity or service charge to your bill, particularly for large groups.  Make sure you examine your bill so you don't double-tip.

Not tipping is a mistake.  And if you are unhappy with your service, leaving only a 10% tip will not speak for you.  It is up to you to speak to your wait staff or a manager to let them know why you are not satisfied.  Be brief and specific with your complaint.

And remember, your tip is based on your satisfaction with the service, not the food.  If your food was not up to par, you should speak with a manager to express your displeasure.

Tipping Etiquette at Various Establishments
In a fine restaurant, when you order wine from a sommelier, standard tipping etiquette is 15% of the cost of the bottle directly to him or her.  Just remember you did so when determining your waiter's tip at the end of your meal.

If you or your guest order a cocktail while at the bar before dinner, it is customary to tip the bartender before you go to your table.  Many times, the tab is handled separately, which makes it easier to tip the common 15%.  Otherwise, you might consider a minimum to be $1.00 per alcoholic drink and $.50 per soft drink.
At a Buffet:
The tipping etiquette varies, but a good rule of thumb is to tip 10% if the wait staff refills drinks or provides other services.
If the buffet is completely self-service, it's still good form to leave a few dollars for people who bus the tables.
If you bring your family and the children are a bit untidy, you might leave a larger tip as a way of saying thank you for taking care of your children's debris.
At a Lunch Counter:
Coffee Shops and Bakeries:
Tip jars are usually available and standard.
If you stay longer than usual or leave a few crumbs, going back to the tip jar is a nice thank-you.
Carry-out Restaurants:

Tipping something - perhaps 10% - is always a good thing.
Tip jars are often available.
Delivery Service:

The size and effort in delivery is always your consideration.
Weather, distance, and difficulty of location are also major factors.
Generosity is definitely appreciated.
As customers, we realize that we are not paying more by tipping.  We are paying for the service we experienced and acknowledging the person who provided it.

You might also show the kindness of making eye contact with your service provider and saying a sincere "thank you."  There's no better way to make someone's day!
You may also enjoy reading . . .