Looking for Etiquette Keywords?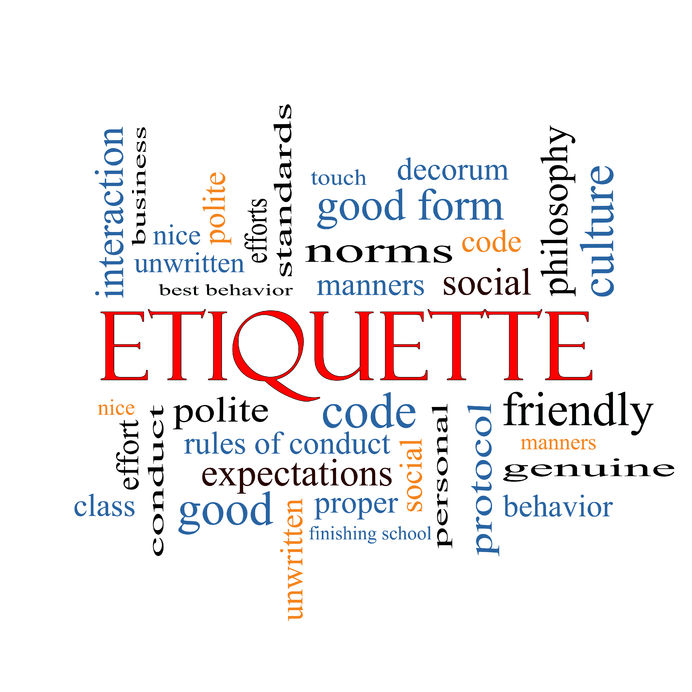 Need a little help with etiquette keywords to find the information you're seeking?  You've come to the right page!
With 250+ articles to choose from, it may save time to narrow your reading choices, or stay awhile and read as much as you want.
And if you have a specific question you're not finding an answer to, please ask it here. 

Below is an "index" of some of the etiquette advice provided on my site. 

Peruse this list and type a keyword into the search box.   Or try another keyword that may not be on the list.  You may be surprised and find an article just for you. 
You'll be taken to a list of etiquette articles on this site that contain the keyword you entered.
Dining
American dining style
buffet
cocktail party
Continental dining style
dessert
dining etiquette
dining tradition

dinner napkins
dinner party
finger food
how to eat soup
how to eat spaghetti
passing items at the table
restaurant dining

saying grace
sharing food
special diets
table manners
table setting
table settings
tipping


Business
board meeting
business lunch
business meeting
coworkers
email

handshake
how to dress
introduce yourself
internship

interview
networking
professionalism
workplace


Social
advice
attitudes
condolences
conversation
eye contact
first impression
friend
friendship
grooming

guest
host
hug
listening
mind your own business
nothing in common
personal space
phone
posture

romantic
RSVP
shared space
social cues
sociality
sports
texting
traveling
who pays


General
address an envelope
alcohol
children
courtesy
divorce
door
earbud
family
first impression
formality

habits
hat
holiday
how to
invitations
mindfulness
neighbor
parenting
pet etiquette

pleasantries
public places
respect
say no
social media
speaking
tactful
vaping
waiting room