Using Creative Gratitude to
Say Thank You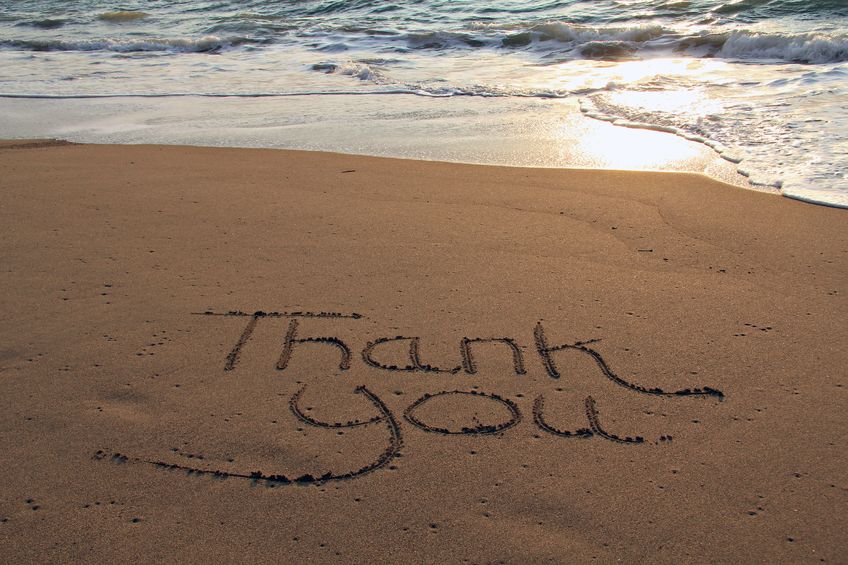 Beneficence and generosity are a main pillar of society.  Giving freely and without requirement creates abundance for everyone.

But generosity requires reciprocation in some form.  When an act of good is expressed outwardly, something of good is returned.  It could be the positive feeling that comes from doing the good act, or it could be an expression of gratitude by the recipient of the good act.

To paraphrase Adam Smith, 18th century moral philosopher, when someone chooses to do something good for you, this requires reward – perhaps a gesture of appreciation – because of the gratitude you feel.

The Basic Thank-you
When we were children, my mother always insisted that my sister and I write thank-you notes.   It wasn't until many years later that I realized, from the irritation of someone not thanking me for something, just how vital it is to have been taught to write those notes. 

A verbal expression of thanks followed by a written thank-you is traditional, and still the basic form of showing appreciation for a gift or act of kindness.  But though traditional, it is not the only way to say thank you.

Practically speaking then, what is required of the person who receives, is finding a way to express the gratitude.  How you express, acknowledge, appreciate, and thank is entirely up to you.

Creative Gratitude
While a thank-you note is always in order, it is entirely appropriate to switch things up a bit.  Because it requires more thought, being creative in attitude and action when expressing your gratitude can also prove that your feelings are authentic.

Creative gratitude in business can be anything from a random item with your company logo on it to a more personalized item that includes a thank-you note written on company stationery.

A real estate agent may deliver a basket filled with champagne and his client's favorite fruits and chocolates.  Or something artistic like the family's name or monogram framed and ready to hang on a wall in their new home.

A business associate may celebrate a closed contract with a gift of something that relates to the line of business she is doing.  A caterer may send a box of mini cheesecakes or cookies along with holiday greetings to regular clients.

If you build relationships with the people you do business with, it will only take a minimal amount of effort to design the perfect expression of thanks.  This not only makes your show of gratitude more memorable, it also cements your business relationship.

For the people in your personal life, you can express creative gratitude when you:

Send a hand-crafted note that includes a picture of the gift, or a treasure map showing how you received the gift.
Make a video of yourself talking about how much the gift means to you.  Or you could make it into a one-act play starring yourself and family members!
Show thanks for an intangible gift, like an act of kindness that saved the day, by sending a favorite plant, dessert, or even a meal, to the one who helped you.
Again, saying thank you in a way that is not only creative, but meaningful, makes your appreciation memorable.

Appreciation Always
Using creative gratitude sets your show of appreciation apart from the usual thank-you note.  But don't underestimate a simple note.
Hand-written notes and letters are, themselves, a unique gift of gratitude.  But most important is that you say thank you - in whatever form you choose to do it.

Cultivate the habit of being grateful for every good thing that comes to you, and to give thanks continuously.  And because all things have contributed to your advancement, you should include all things in your gratitude.
~ Ralph Waldo Emerson

You may also enjoy reading . . .