Etiquette Classes that
Build Confidence 

Looking to help other people professionalize? 
I bring my experience as a long-time educator to the task of tailoring etiquette sessions to the circumstances of your individual group, program, school, or office.

Etiquette classes taught by Candace Smith Etiquette help build confidence and competence for entering any social or professional situation.  In a world in which "private" so quickly turns "public," etiquette skills add to the soft skills toolbox.  
Confidence, poise, and balance are what everyone hopes for.  If you are charged with helping others prepare entry into their next phases of productive life, or helping your company meet and maintain an image of excellence, I would love to help you accomplish your goals. 
All etiquette sessions are hands-on, interactive, and customized to meet your organization's needs.  After all, every group is dynamic and unique. 
Learning Sessions May Include These Basics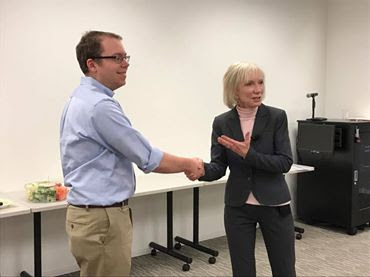 Introducing yourself and others
The perfect handshake
The first 7 seconds - or, making a good first impression

How to balance a plate, glass, and napkin while shaking hands
Exchanging business cards
Starting and ending a conversation
Making small talk
The two styles of dining
Impeccable table manners that transfer to many settings
Dressing appropriately for your work environment
Interviewing when food is involved
Extending and responding to an invitation
Writing thank-you notes
Courteously using electronic communications

Networking and socializing skills at stand-up events
Why Are  "Soft" Social Skills Important?
People do business and interact with those they know, like, and trust.  Managing personal space while in the company of others lets them see that you are conscientious and respectful of commonly shared space.  

Employers are looking for employees who demonstrate not just technical skills and know-how, but people skills and practiced professional etiquette skills.

Adeptly interfacing with associates, clients, customers, instructors and fellow learners in a polite, authentic manner helps you conduct business more effectively, and also can benefit your personal life.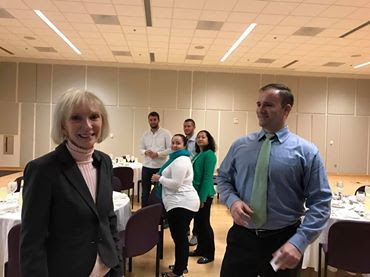 Customize a Class for your business, career center, university, or group. 

Etiquette classes and interactive seminars are conducted on-site.  

I work with large and small student groups, businesses, and organizations. 

One-half Day to Full Day Sessions Customized


Need a guest presenter? 
Contact me to discuss needs and a fee quote.
Inquire about a Talk or Presentation for your organization, class or group. 
Etiquette Basics with emphasis on Networking Skills
Presenting yourself with positive first impressions
Greeting and meeting skills, including proper handshake
Personal space awareness
Posture and body language
Introducing yourself and others, four rules
Remembering names
Giving and receiving business cards, following up
Socializing and networking skills
What to do with your hands--holding the plate, glass, napkin and shaking hands at the same time

Etiquette Basics with Emphasis on Communication
Communication know-how, give and take
Always 2-way, back and forth 
Speaking, listening
Greeting and meeting skills
Personal space awareness
Dressing for success

Posture and body language
Rules of introductions
Gratitude practice: The thank-you note
Netiquette nitty-gritty

Dining Etiquette and the Business Lunch *
Learn to read your place setting as a map of your meal
Approaching the table

The role of the host



Table etiquette 

American and Continental dining styles
Proper use of the napkin
Holding your dining tools correctly 

Learn how to manage your space at the table
Hosting and attending a business lunch

Experiencing a four-course meal

* This training can also be presented WITHOUT food. Imaginations will be employed!
Brainstorm other topics with Candace to set up a class for your business, organization or school.   

Call Candace Smith at (714) 639.0825 today.  Or complete the contact form below.