The Etiquette Blog
Check out the articles listed below to find answers to your etiquette questions on table manners, your social life, and work environment. Explore and enjoy the over 150 articles on this site!
Want these pages sent to you automatically? Subscribe to the RSS Feed by clicking the orange button on any page.
Thank you for joining us!
Preparing for a Job Interview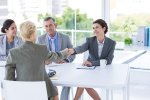 A job interview is your time to shine! Make the most of it by showing your knowledge, confidence, and etiquette skills.