Making Time to Dine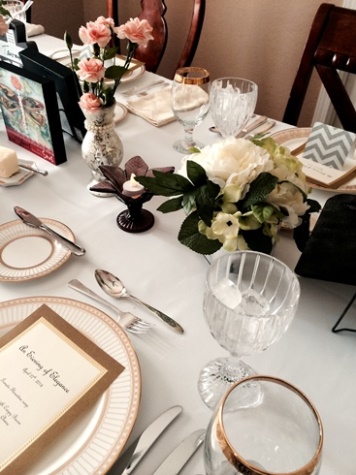 Do you ever get the chance to enjoy a slow, leisurely meal?  Savoring every bite while participating in pleasant conversation with friends or family?

This is known as dining.  It's a rare experience for most of us, but one worth making time for.

Especially when you know it as a positive experience.

Protocol guidelines for meals, otherwise known as table manners, grew out of human sociality: to bring efficiency and pleasantries to the table.  Granted, formality was the order of those days, but even at today's casual tables, a system helps move things along.

The most important part of the system is that each person at the table knows what is expected.  Isn't life so much easier when you know how to fit into a situation?  Dining is no different.

Take time to create your own mealtime traditions, and include your family and friends.  Learn the styles of dining and practice them during family meals.  After all, there's no better place to teach table manners than your own dinner table.  

You'll not only create a life-long skill set, you will also make some wonderful memories.


Basic guidelines to get in the habit:
Commit to share a specific number of meals each week with friends, family, or even new acquaintances.
Know how long your meal takes, and put it on your family calendar so there are no excuses.
Share the responsibilities of the meal and decide ahead of time who prepares the meal, who sets the table, who cleans up, etc.
Don't be nervous about letting young children practice eating with a fork and knife.  I've seen kids as young as three years old master Continental dining.  With a little guidance, it can be done!
Encourage pleasant conversation during your meals.  Let your table be a place of sharing and caring.


Mealtime has evolved to the extent that our lifestyles have evolved.  What has not changed is our need for learning and expressing ourselves with courtesy in the company of others.  The best way to feed this need, and our bodies, is taking the time to dine in a convivial atmosphere with friends and loved ones. 

Join me in continuing the tradition of dining.  Use the guidelines above to create mealtimes your friends and family will treasure.

You may also enjoy reading . . .